EcoVape's NEW Website has made ordering your products an easy and enjoyable experience!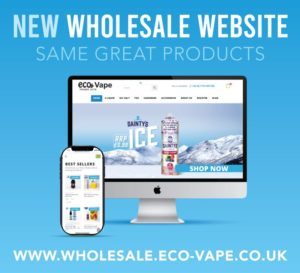 Eco-Vape Wholesale – The most competitive wholesale E-liquids on the market!
With bestselling ranges in the form of Dainty's E-liquids, Psycho Bunny, Dripping Range, and our classic Milkshake range there's a superb array of flavours across 10ml, 50ml, and 80ml sizes, as well as our new Dainty's and Psycho Bunny 10ml Nic Salts.
Register an account on our new website and start stocking Eco-Vape products in your shop today!
The NEW 3 step ordering process!
Making the ordering process for your vape products easier than ever!
Click here to create an EcoVape Wholesale account now! https://wholesale.eco-vape.co.uk/register/
Once you have created your EcoVape Wholesale account you can start the order process for your vape gear!
Go ahead and select everything you want from the store and add all of your chosen products to your basket.
Next, go to your basket and proceed to checkout, follow the instruction for payment and purchase your items!
That's everything that you need to do! The next step is in our hands. As long as your payment was completed before 1pm you will receive next day delivery! Now all you have to do is wait!
To celebrate the launch of our NEW Wholesale site, we are giving everyone a free box of 20 Nic Shots with your first order! Click here to shop NOW!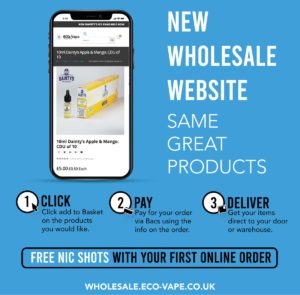 Order Before 1pm = Free Next Day Delivery!