Max Out The Stoptober Hype with the brand new HYPPE MAXX Disposable Vape
Following months of development and after working closely with leading vape manufacturer Hyppe, Eco-Vape is proud to announce it will be the UK's sole distributor of the all new HYPPE MAXX disposable vape bar when it launches this October.
Filled with five mouth-watering 'real taste' flavours, 600 puffs and an anti-leak design, the Maxx is powered by a 500mAh battery offering extended battery life alongside switchable draw options.
Combined with a product-specific hybrid nicotine salt, the Hyppe Maxx is a market-leading addition to the disposable vape industry. All this in a double-moulded glass finish, providing a stylish, convenient and ready to vape bar that slips right into your pocket.

Pre-order in time for this Stoptober​
Available for pre-order now, the latest edition to our disposables range will retail at just £5.99 and an introductory pre-order wholesale price of £2.35, making it one of the most affordable disposable vapes on the market. In time for the hype around the Stoptober month, the Maxx is the perfect tool for those looking to quit smoking and take the first steps on their vaping journey.
Our Popular Disposable Vape Flavours​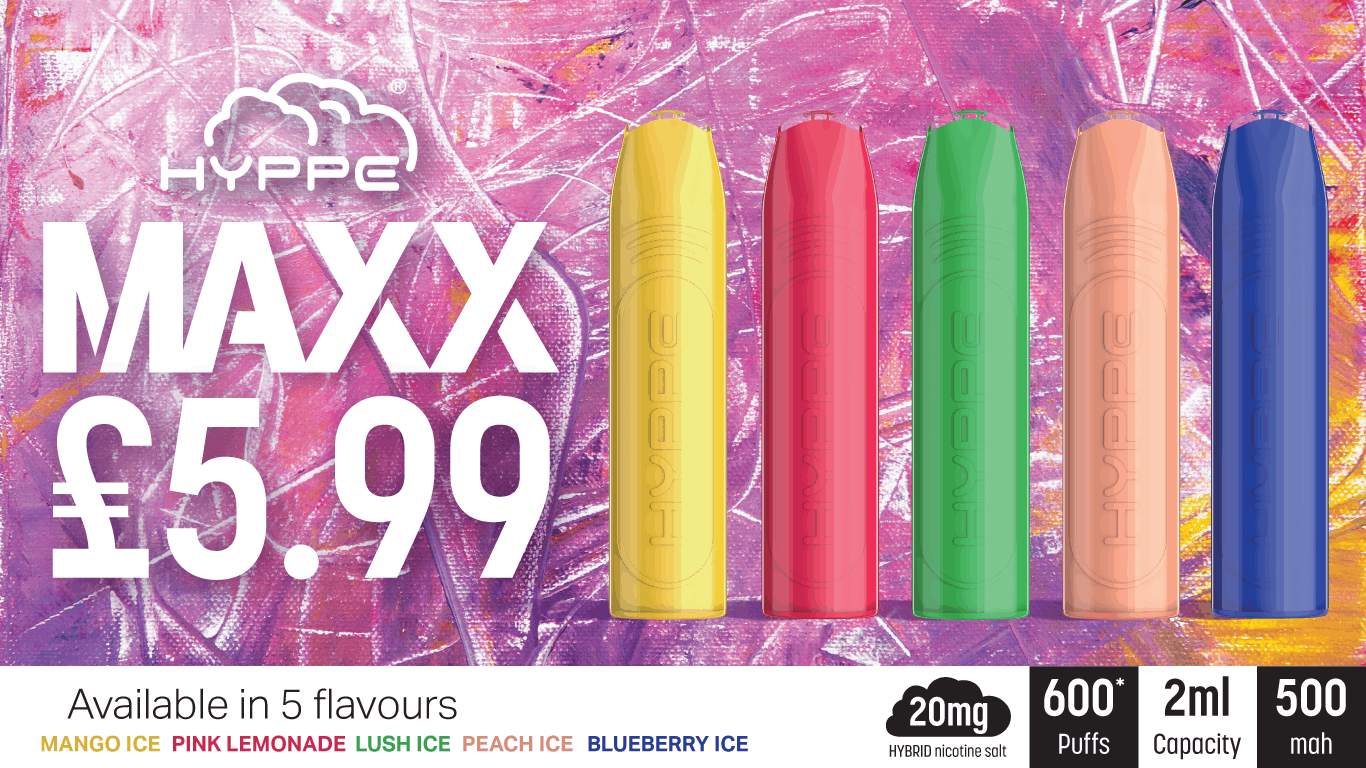 Flavour is one of the most important factors when it comes to disposable vapes. Here at Eco Vape, we rigorously test all our products to make sure flavour, taste, battery life and overall vaping experience is something we can confidently put on our shelves, knowing our customers will be happy time and again.
When it comes to flavour, our Hyppe Maxx Bars stand out from the crowd. We've perfected this over many months of research, resulting in what we believe is the best range of flavours on the market. With more on the way, our range will start with five 'real taste' flavours using premium organic cotton, including:
Lush Ice – Lucious and fruity watermelon that finishes with a cool hit. 
Blueberry Ice – A cool and refreshing burst of mouth-watering blueberries. 
Mango Ice – A tropical blend of rich mango with a cooling ice finish. 
Peach Ice – A tantalisingly cool and sweet peach ice flavour. 
Pink Lemonade – A thirst-quenching concoction of grapefruit and lemonade with hints of raspberry and strawberries.
Why are disposable vapes so popular? ​
Disposable Vapes are a great way to transition from harmful cigarettes that contain tar, carbon monoxide and acetone. They're the next big thing to enter the world of vaping, with the likes of Geek Bar and Elf Bar setting the trend. 
With all the hype around disposables, we wanted to go the extra mile to stand out from the crowd. After months of product research and testing, we're proud to announce the new Hyppe Bar Maxx. It's longer lasting, better tasting and in our opinion a far better-looking disposable vaping device that is available direct to our wholesale vape and retail e-cig customers.
Vaping beginners often find disposable vapes as a great way to get into the latest vaping trend. No complicated menu system, battery anxiety or e-liquid spillage and drips. Just a simple, ready to vape, straight out of the pocket experience.
You have to ask yourself – why haven't you tried the new Hyppe Bar Maxx yet? 
Don't just take our word for it. Take a look at what some of our most recent customers had to say after sampling the new Hyppe Bar Maxx Disposable Vape:
***** – Troy: The Hyppe Maxx was a perfect device for me to quit smoking cigarettes. I usually go through a pack a day. Looking forward to saving some money, getting fit and healthier.
***** – Christine: It's perfect for us older people who don't want to have to learn how to use and maintain a normal vape. I love the watermelon flavour and they last me a few days.
***** – Mo: Patches and gum didn't do anything for me, but the disposable vapes work great, they stop my cravings and taste lovely. Also my clothes don't smell of smoke anymore!
What are the benefits of Hyppe Bar Maxx disposable e-cigarettes?​
Smokers will feel the health benefits of this convenient vaping solution – and did we mention the cost? With the average pack of twenty cigarettes costing around £10 in the UK, our Hyppe Bars are only £5.99 – and here is the best bit. One Hyppe bar is equivalent to 48 cigarettes, so that's a huge saving over time! Think about that this Stoptober.
Hyppe Bar Maxx: Disposable hybrid nic salts VS traditional freebase nicotine/standard nic salts​
Containing 20mg of hybrid nicotine salt, the Hyppe Bar Maxx disposable devices provide a smooth throat hit and relatively discreet vapour. The classic nicotine salts and freebase nicotine area familiar feature in the vaping world, for different reasons. Freebase Nicotine is handy for getting the kick you need from a shortfill 0mg juice, whereas nicotine salts are often used to slowly transition away from nicotine and smoking. They both have their positives for all vapers, however both of them have their negatives.
Freebase nicotine can be too strong for many vapers as it can hit too hard on the back of the throat, making it less comfortable to vape and not very satisfying to intake. Freebase has a low concentration and is a pure form of nicotine. Nicotine salts, on the other hand, can sometimes be too smooth and not provide a hit as hard as some people like. They have a high concentration but comes from an organic form of nicotine. Vapers have also said the satisfaction of vaping Nicotine Salts doesn't last as long.
However, there is a middle solution to the issues surrounding nicotine salts and freebase nicotine – all new hybrid nicotine salts. Hybrid nicotine salts like those found in our Hyppe Bar Maxx are the perfect infusion of both freebase nicotine and nicotine salts. Hybrids hit well and satisfy you without the harshness on intake or itchiness. They closely replicate the sensation of a regular cigarette, which makes them very popular amongst ex-smokers trying to quit as they hit fast and last long.
During the research stage of our Hyppe Bar Maxx, we found this was by far the best solution for our latest product release. Built with the end-user in mind – we want our customers to have the best of both worlds when vaping the new Hyppe Bar Maxx from Eco Vape.
Where are disposable vapes sold?​
Eco Vape offers a wide selection of disposable vape devices at ultra-competitive prices. We stock the Geek Bar, Beco Mate, Elf Bar, Buzz Bar and Zeltu – but our signature and highly recommended brand is the Hyppe Bar Maxx.
Now of course we are going to recommend our own brand, you're probably thinking? 
Well, there's a very good reason for this. We have tried, tested and compared our product to what's already in the disposable vape market. We then optimised the Maxx with a tighter draw regulator, extended battery life and hybrid nic salt integration – all wrapped up in a sleek, cool design.
We looked closely at the different disposable vape options on the market, like the original trendsetting Geek Bar, then took the vaping trend to the next level by combining the best features across the disposable market into one device.
How to use a disposable vape pen
We designed the Hyppe Bar Maxx disposable vape pen to be as easy to use as possible. Other vape bars might differ slightly but in general, the following instructions should help you get started. 
Here is a step-by-step guide to using your disposable e-cig:
1. Open the cardboard packaging and remove the contents  
2. Remove the disposable vape pen  
3. Remove and discard the silicon plug at each end of the device  
4. Activate the disposable vape by drawing on the end of the e-cig – an LED light will glow on the bottom of the device  
5. The LED light will flash when the battery is depleted – at this point, safely dispose of the device in an environmentally friendly way.