Geek Bar Pro pulled from shelves as UK regulators crack down on fake disposable vapes.
Are you selling illegal vaping products

?

 How can you tell if the products you sell are compliant with UK laws?

 

Since

d

ispos

able

vaping

has become a huge trend

across

the UK

 in 2021

, 

the industry is coming under

scrutiny 

as reports of fake, non-compliant disposables are finding their way into customers hands

– including young people

.
Are your disposable vapes TPD compliant?
Why is there so much focus on compliance?
A recent article in the Daily Mail has put the issue of compliance and vaping devices under the spotlight, with popular disposable vape devices like the Geek Bar coming under particular scrutiny. This boom in popularity has attracted attention from authorities as well as the genral public, with the Mail claiming that #geekbar has already had 46 million views on TikTok alone.  
It highlights how young people have been posting videos on social media with disposable vapes containing the equivalent of 125 cigarettes worth of nicotine, whilst reporting that some users of these illegal devices "have reported lengthy nosebleeds, coughing up blood, headaches, chest pains and dizzy spells."  
What rules should I follow when selling vape products? 
The UK's tobacco and vaping industries are governed by laws known as TRPR (Tobacco and Related Product Regulations) and the TDP (Tobacco Products Directive). You can find the full regulations on the UK Government website. It's a long read and full of legal jargon, so we've covered the basics in this article so you can get up to speed.
You should also know that the UK Vaping Industry Association (UKVIA) is the leading trade body in the UK vaping industry. They have and an in-depth guide to compliant vaping regulations which you can read on our website.
The Geek Bar Pro and similar devices are being pulled from shelves, should I be worried?
Which devices should I be worried about and are they compliant?
Most of the negative attention centres around larger devices like the Geek Bar Pro, which contains over 1500 puffs and nearly 50mg of nicotine in a single device, well above the legal limit in the UK and are not compliant with industry regulations. 
Trading Standards in Oxfordshire County Council have already removed hundreds of these products from shelves and are continuing to investigate stores suspected of selling them, though often the store owners aren't actually aware that the product isn't legal to sell. 
So, it is important that you are well aware of the rules governing the tobacco or vaping products that you are selling in order to avoid your stock being removed from sale.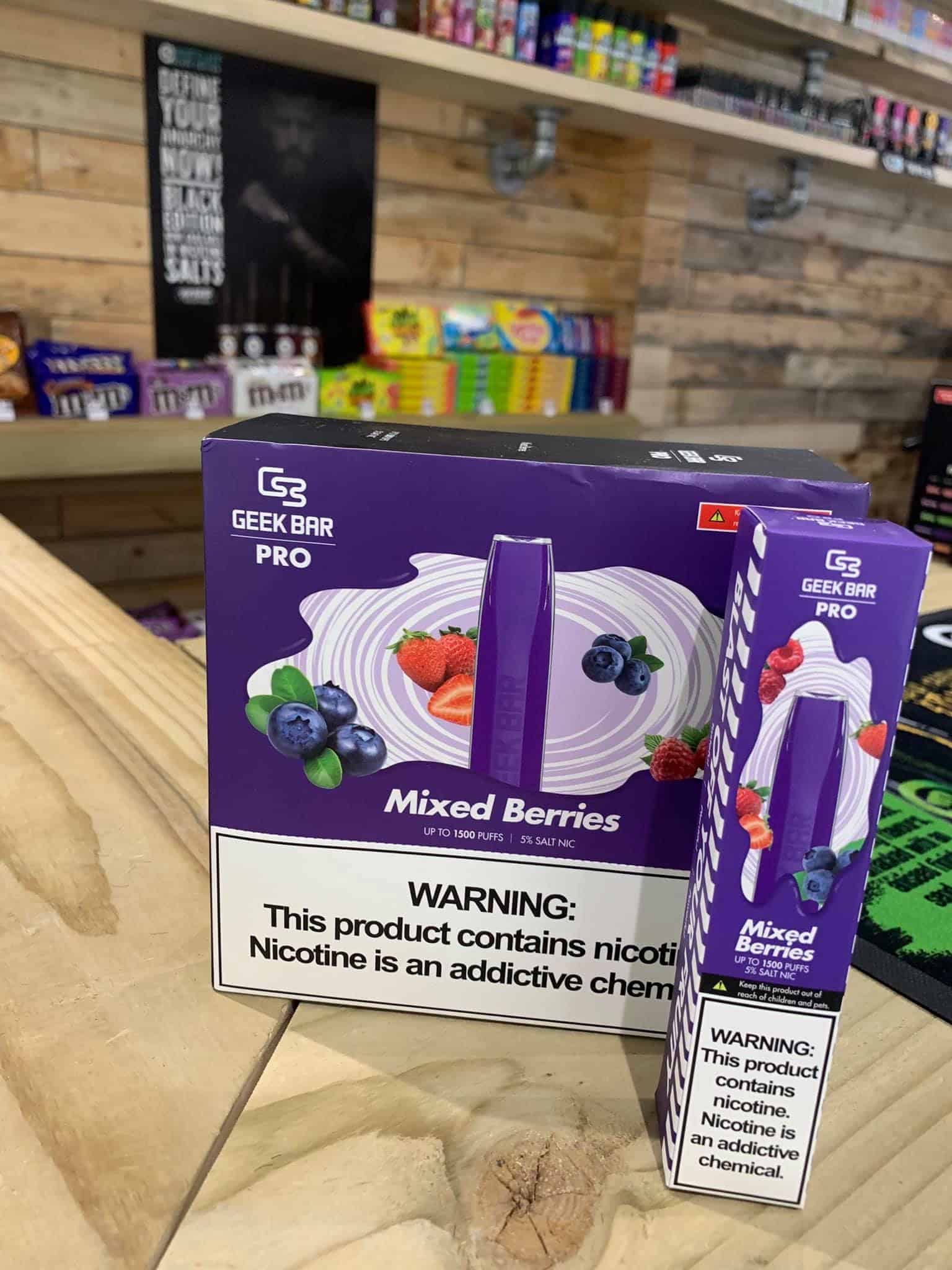 How can I tell if I'm selling illegal vaping products? 
The easiest way to check if the vape products you sell are compliant is to check the MHRA website to see if their assigned ECID number is listed, which you can read more about below. 
However, some of the main warning signs to be aware of include a tank/reservoir capacity greater than 2ml and if the device provides more than 600 puffs – though this is not a guaranteed way to spot a non-compliant device as it could have the correct capacity but still not be listed on the MHRA website.  
You should also know that it is illegal to sell a vaping product with more than 20mg of nicotine in the UK.
What are the red flags I should look out for when selling vaping products?
Packaging
Any tobacco or vaping related product you sell must come in packaging that contains a nicotine health warning and nicotine content information, including text that says "This product contains nicotine". 
It should also include hazard and precautionary statements, capacity information, nicotine dose per puff, as well as other information – you can also find the full list of packaging requirements for the UK market. 
For example, if you're looking to stock disposable vapes and the packaging doesn't have any health warnings or nicotine content information, this could be a sign that the device is not compliant. You can check the device is compliant by searching for its assigned ECID code listed on the MHRA website which we detail later in this article. 
Capacity
Vaping products must have a tank/reservoir capacity of no more than 2ml. Anything above this is not compliant with TPD regulations. 
Any disposable vape device cannot have a nicotine level higher than 20mg/ml (2%). If your device has more than either 2ml capacity or more than 20mg (2%) nicotine then it is not compliant with UK regulations. 
How can I check if the devices I am selling are compliant?
To supply a tobacco (or vaping) product to Great Britain, companies are required to notify the MHRA (Medicines and Healthcare products Regulatory Agency) about their intention to sell a vaping product. Once it has been checked, the MHRA will list the device on their website. The device will be listed with a code known as an ECID. 
Manufacturers assign their own ECID code to their products, however this alone does not mean a device is compliant. What matters is whether or not the ECID number is listed on the MHRA website. Just because a device has an ECID number, it does not mean it is compliant. If a device has an ECID, but it does not appear on the MHRA's list, then it is not legal to sell in the UK and it is non-compliant. 
Visit the MHRA website to check if your device is listed (for products registered after January 2021). If you're device isn't listed here, make sure you check the legacy list (for products registered before January 2021). If it isn't listed on either site, then the device is not compliant. 
What should I do if my disposables aren't compliant?
If the vaping products you sell are not listed with their ECID number on the MHRA website, then it is likely they are not compliant and you should remove them from sale immediately. Contact the manufacturer and ask them to provide details about whether their product is TRPR and TPD compliant, why their ECID is not listed on the MHRA website and ask them to provide verification that the device is compliant.  
If the manufacturer isn't able to get its ECID listed with the MHRA, then you will not be able to legally sell the products and you may be at risk of having them seized by the authorities if you continue selling them. 
Is there anything else I should know before I can sell vaping products? 
You can find full information on Part 6 of the TRPR, which governs the use of tobacco products in the UK, if you click here. But as long as the device's ECID is listed on the MHRA, it does not have a capacity of greater than 2ml/more than 600 puffs and it does not contain more than 20mg of nicotine; then it's likely fine to sell. 
Where can I buy legal vapes?
Where can I buy vaping products that are fully compliant? 
If you sell vaping products and want peace of mind that the products you sell are compliant, safe and legal to sell to your customers, then to visit the Eco-Vape wholesale website where you can find fully compliant vaping products at great wholesale prices, from disposables and starter kits to e-liquids and nicotine salts. 
Visit our wholesale site and discover unbeatable prices starting at £1.60 for disposables.
Introducing the all new Hyppe Maxx disposable vape.​
Eco Vape is proud to introduce the all new Hyppe MAXX, our most advanced disposable yet. We've worked exclusively with manufacturer Hyppe to design the MAXX from the ground up, focusing on quality and compliance so wholesalers can stock up in confidence. Unlike some of the competition, our latest disposable is CLP/TPD compliant, MHRA listed and available to order across the UK right now. 
Packed with 600 puffs and powered by a 500mAh battery, the MAXX launches in five mouth-watering flavours with another five already in development. Finished with a premium and elegant design, we're incredibly proud to be the UK's official distributor of the Hyppe MAXX.  
Even better, we're able to offer it at a seriously competitive price that offers market leading potential, available from just £2.50 per unit wholesale and retailing at £5.99. Max out on the Stoptober hype and get the Hyppe MAXX on your shelves today.  
Visit our wholesale website now and get hold of your stock at incredible wholesale prices, only at Eco Vape.