Choose your favourite Resentless 100ml's from the range below!
*Please be advised – Choose your desired quantities of each flavour on this page, as you will not be able to amend Quantities in the Cart. You can view the total price of your selection at the bottom of this page*
Loading...
Resentless 100ml's
VG/PG Mix: 70/30
Size: 100ml
Strengths: 0mg
MADE IN ENGLAND
Brand
Resentless 100ml
RESENTLESS
BRAND NEW TO ECO VAPE!
Welcome to the Resentless E-Liquid range, a brand NEW High VG E-liquid Range bursting with flavour, poppin' with style, and brimming with value. This 5 flavour 100ml eliquid shortfill range will have you updating your status with your new ADV and feeling resentless at all those behind you that have yet to dare to try! Post your hand checks and tag us at @_ecovape and #resentlessvape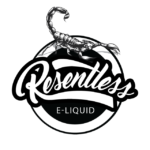 | | |
| --- | --- |
| NIC STRENGTH | |
| BOTTLE SIZE | |
| VG/PG BLEND | |